Edge-to-Edge Pricing and Patterns
Minimum charge for quilts $35.00
Length x width = square inches
Square inches x price = quilting charge
(Price per square inch is
based on difficulty of pattern.)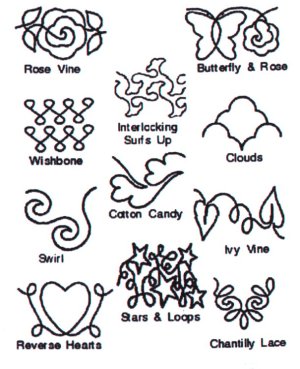 Select a pattern from those above or
many others are available. Price includes
large meandering. Prices subject to
change without notice.
Machine Quilting
Custom Quilting
Designs for borders and blocks to make your quilt as original as you are. Custom quilting includes: stitch-in-the-ditch, shadow quilting, stippling and more. Custom Quilting is 3 cents per square inch. (Length x width = square inches).
Basting
I will baste parallel lines 4" apart to stabilize the 3 layers for your hand quilting. Basting is .006 per square inch. (Length x width = square inches.) Minimum $35.00.
Binding
Binding is applied by machine to the right side of the quilt and hand stitched to the back. Binding is .18 per linear inch. (Length x 2) + (width x 2) = linear inches. We will make and apply binding by machine for only $20.
To add a different design in borders
that requires reloading the quilt add $25.
Edge-to-Edge
Continuous line quilting which covers the entire quilt top. I offer many different designs that will make your quilt unique.
To Prepare Your Quilt
Backing should be 4" larger than the quilt top on all sides.
Press top and backing.
Remove all pins and/or basting.
Some patterns establish a top and bottom to your quilt. If there is a top, please indicate it with a note.
Measure quilt to make sure it is as square as possible.
Remove all selvage edges from fabric; they tend to curl when washed.
Check quilt top for loose threads.
Custom Quilt Hangers
24"
$39.95
30"-36"-42"
$49.95
45"-48"-54"
$59.95
60"-66"
$65.96
Above lengths add $10.00 S&H
72"-78"
$69.96
84"
$79.95
90"
$89.95
96"
$95.95
Above lengths add $20.00 S&H
Do you have quilts?
Do you need an attractive way to hang your quilts now?
We have the solution for you!
Solid 3/4" Oak Quilt Hangers!
Easy to change!
Does not harm your quilts!
Hang rugs or throws too!
Availble in natural oak, medium, and dark stain.
Custom sizes and woods upon request.
Quilt by Linda Monasky